Discover The Adventure Of Airboat Tours Near Miami
Prepare for an extraordinary adventure as we take you on an immersive *60-minute narrated airboat journey deep into the heart of the awe-inspiring Everglades.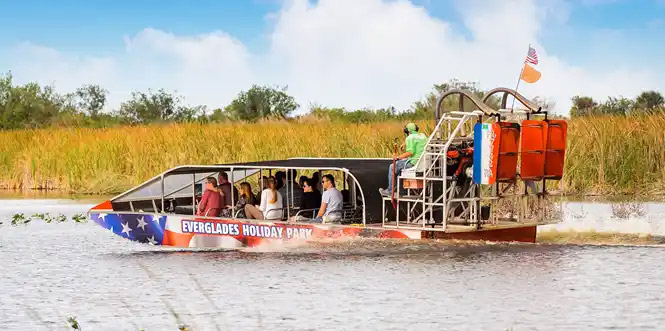 Are you ready for an unforgettable journey into the heart of the Florida Everglades? Our daily airboat tours just west of Miami, Florida, offer an immersive experience like no other, where excitement, education, and adventure come together for an amazing *60-minute narrated airboat ride through this unique ecosystem. Whether you're traveling with a group or seeking a thrilling Everglades private tour, we've got it all covered. 
For All Ages – Education Meets Excitement
Who said education has to be dull? Not in this place! Our Everglades airboat rides are ideal for families and thrill-seekers alike because they are made to accommodate people of all ages. This is your opportunity to explore the area surrounding the Everglades National Park, a location rich in natural beauty and history. You'll be itching for more after taking this Everglades trip; one visit won't be enough. 
A Thrilling Narrative of Everglades National Park
Embark on a modern airboat experience with us, furnished with covered seating to protect you from the Florida sun. Rare birds and wild alligators will cross your path as you glide across the grassy river and into the cypress jungle on our private tours. An intimate voyage through one of the most varied settings on the planet awaits. With the heat and direct sunlight in South Florida, the fast movement of the airboats gives you a chance to cool down, and our boats also have a roof to provide some shade for your adventure.
What's Included in Your Everglades Airboat Tours
A heart-thumping, fully narrated *60-minute Everglades airboat tour on the border of the Everglades National Park. We also offer packages that include a mesmerizing *20-minute live alligator show by the renowned Gator Boys Alligator Rescue team. An additional add-on would include two professional-grade group photos to capture your adventure. At our charming Everglades gift shop, you can relax in the cozy cafe and shop in our well-stocked general store for souvenirs and mementos.
A Deeper Dive into the Everglades – A Nature's Wonders
Our airboat tours offer an in-depth and thrilling experience meticulously narrated by our professional captains. As you embark on this heart-pounding adventure, you'll delve deep into the secrets of the Everglades, creating memories that will stay with you forever. Our expert and experienced guides will unravel the mysteries of this unique ecosystem, making every moment an educational and unforgettable experience.
Duration of the Tours – One Full Hour of Excitement
Prepare to be immersed in excitement for a *full hour as you journey through the captivating wetlands of the Everglades on our group tours, starting from Miami Beach. During this extended tour, you'll witness a myriad of amazing sights, from majestic birds to hidden marshland treasures. The adventure doesn't stop there; our alligator presentation show, lasting between 15-25 minutes, will leave you spellbound. You'll witness jaw-dropping tricks, daring stunts, and fascinating facts about these incredible creatures.
Get Up Close and Personal with Alligators – Create Unforgettable Moments
Hold a live baby alligator now in your hands and seize the opportunity to capture this unforgettable moment with a photo as proof! Safety is our utmost priority, and our highly experienced team ensures that your alligator encounter is not only thrilling but also completely secure. Feel the incredible power and strength of these remarkable creatures while remaining in the safe hands of our experts.
Safe and Family-Friendly – Adventures for All Ages
Our airboat tours at the park are designed to be a safe and enjoyable activity for everyone, from the youngest adventurers to the elderly. Rest assured, you're in capable hands with our experienced boat captains who hold licenses from the Coast Guard and possess extensive knowledge of the Everglades. Your safety and satisfaction are our top concerns, ensuring that your family's day of exploration is nothing short of extraordinary.
The Gator Boys Alligator Rescue – Guardians of Wildlife
Our alligators find refuge in the compassionate care of The Gator Boys Alligator Rescue team, dedicated to their well-being. In this safe and natural environment, these fascinating creatures thrive, ensuring that our alligator shows are both entertaining and genuinely animal-friendly. Witness the harmony between humans and alligators as our team showcases their incredible feats.
Bring Your Little Ones – Family Fun for All Ages
We enthusiastically welcome parents to bring their young children on board for a memorable adventure. Children under three years old ride for free, making it a budget-friendly family outing. Our custom airboats not only offer sun protection but also ensure the safety and comfort of your little ones. Additionally, we provide earplugs for those who may be sensitive to engine noise, ensuring a pleasant experience for all family members.
High-Speed Adventure – Airboat Ride – Adrenaline-Packed Exploration
Get ready for an exhilarating high-speed adventure that offers a breath of fresh air and heart-pounding excitement. Our airboat tours are renowned for providing some of the best sightseeing opportunities in Florida. Keep your eyes wide open to catch glimpses of the Everglades' incredible wildlife, including the American alligator, often referred to as a living fossil. It's a thrilling encounter with nature at its finest, and every moment is filled with excitement and discovery.
Nature's Spectacle in South Florida – An Unforgettable Journey into the Heart of the Everglades
Welcome to Everglades Holiday Park, your gateway to an unparalleled adventure and a treasure chest of cherished memories. Our airboat tours promise an immersive experience that connects you with the awe-inspiring wonders of nature. During the captivating 60-minute narrated journey, you'll not only bear witness to the mesmerizing beauty of the Everglades but also delve deep into its rich and storied history. This unique experience blends education with excitement and is suitable for the entire family, leaving you with a profound appreciation for the natural splendors of the Everglades.
Authentic, Custom, State-of-the-Art Airboats – Elevating Your Sightseeing Experience to New Heights
Our airboats are the epitome of excellence in South Florida, embodying authenticity, custom craftsmanship, and cutting-edge performance. Opt for covered seating, and you'll not only soak in the sunny landscape but also stay comfortably shielded from the elements. Our top-tier fleet of airboats is meticulously designed to provide the most extraordinary, comfortable, and unforgettable sightseeing experience imaginable. Safety is our utmost priority as we navigate through the Everglades, ensuring that your journey is both thrilling and secure. We are dedicated to delivering an adventure that transcends expectations, leaving you with memories that will last a lifetime.
Experienced Airboat Captains – Navigating the Everglades with Experts
Embark on your Everglades adventure with confidence, guided by our exceptional team of experienced captains. These individuals are not merely captains; they are passionate stewards of the Everglades and its intricate ecosystem. With years of dedicated exploration, they have become true experts in their field, offering invaluable insights into South Florida's diverse natural world.
As you board our state-of-the-art swamp boats, you'll quickly realize that you're in the capable hands of individuals who share a deep connection with this unique environment. They navigate the winding channels of the Everglades with precision, taking you to remote and secluded areas where captivating animals, both rare and common, find refuge.
Our captains don't just narrate your journey; they paint a vivid picture of the Everglades' history, geography, and ecology. Their commentary transforms your airboat tour into a fascinating educational experience, providing you with a profound understanding of the delicate balance that sustains this extraordinary habitat.
Choose Your Adventure – Tailored Experiences for Every Tourist
At Everglades Holiday Park, we believe that no two adventurers are alike, so we offer you the freedom to choose your ideal experience. As the exclusive destination in Florida, we provide a unique opportunity to select from both covered and open-air airboats. This means you have the power to customize your adventure, catering to your individual preferences and desires.
For the thrill-seekers, our open-air airboats promise an adrenaline-pumping boat ride through the heart of the Everglades. Feel the wind in your hair and the rush of excitement as you visit this dynamic ecosystem up close. The unobstructed views immerse you in nature's beauty, allowing you to witness the Everglades' wonders with unparalleled clarity.
If you prefer a more sheltered experience, our covered airboats offer a comfortable journey without compromising on the thrill. Enjoy the warm sun without worrying about the elements. These airboats provide a shaded sanctuary as you glide through the Everglades, allowing you to appreciate the scenery without exposure to the sun's rays.
Educational Adventures for All Ages – Learning While Having Fun
At Everglades Holiday Park, we're committed to creating adventures that are not only immersive and exciting but also educational. Our attractions are meticulously designed to provide enriching experiences for visitors of all ages. We firmly believe that learning should be fun and that philosophy is at the heart of everything we do.
Our park is a favored choice for school field trips and for a good reason. We offer a unique learning opportunity that brings the wonders of the Everglades to life. Our educational adventures cover a wide range of topics, from the ecosystem's delicate balance to the diverse wildlife that calls it home. For young visitors, our adventures ignite a passion for nature and conservation. They get to witness the magic of the Everglades while gaining a deeper understanding of wildlife, showing its importance in preserving our planet's biodiversity. Even the most reluctant learners are captivated by the hands-on experiences and engaging presentations.
For Nature Enthusiasts and Thrill-Seekers – Nature's Playground Awaits
If you love nature, our airboat tour from Miami Beach to the Everglades is perfect. You'll see beautiful forests, wild birds, and even alligators in their natural home. Our group tours are safe, fun, and you'll learn a lot too. When you see an alligator up close during our wildlife show, it's really exciting. Our experienced captains make sure you're safe while you explore and learn about this amazing place. So, come and enjoy the simple thrill of being close to nature, spotting alligators, and learning cool facts about the wild Everglades.
More to Experience – A World of Wonders Awaits
In the vast expanse of the Everglades, the adventures are as boundless as the horizon itself. One visit to Everglades Holiday Park is merely the tip of the iceberg; this ecosystem is teeming with other wildlife and discoveries waiting to be made. The captivating allure of the Everglades will leave you yearning for more, beckoning you to return time and time again.
Our airboat tours serve as gateways to an ever-unfolding adventure. With each journey, you delve deeper into the heart of this extraordinary ecosystem, uncovering hidden gems and creating memories that endure. Whether you're captivated by the call of the wild or fascinated by the mysteries of the natural world, the Everglades never ceases to amaze you.
An Unforgettable Adventure Awaits – Where Education and Excitement Converge
At Everglades Holiday Park, we have fun and learning-packed airboat tours for everyone. Whether you're looking for a learning adventure, a family trip, or a thrilling nature encounter, our tours have it all. Once you step onto our airboats, you enter a world of excitement. Our skilled captains guide you through the water paths, sharing cool facts about the Everglades.
Each twist and turn of the journey brings you closer to the wild beauty of this place, where animals roam freely, and history comes alive. Our tours are great for both curious kids and adventure-loving adults. The journey through the Everglades is a memorable one, where discovering nature's beauty and learning new things create happy memories. Plus, our wildlife show with alligator actions is a fun and educational highlight, making the adventure even more exciting.