Airboat Safety
Policy at Everglades Holiday Park
Airboat tours are a top attraction at Everglades Holiday Park, providing visitors with the once-in-a-lifetime opportunity to venture deep into the heart of the Everglades and explore various wildlife and terrains. The adventure that awaits in South Florida's natural Everglades excursion which is the main reason why thousands visit our park every year. Our expert airboat captains will make sure you have a remarkable experience while keeping airboat safety top-of-mind as you venture deep into the thriving waters of the Everglades. However, it is important for our guests to consider the various aspects of cruising across the glades on an airboat. For a successful exploration, all guests must adhere to Everglades Holiday Park's rules for riding.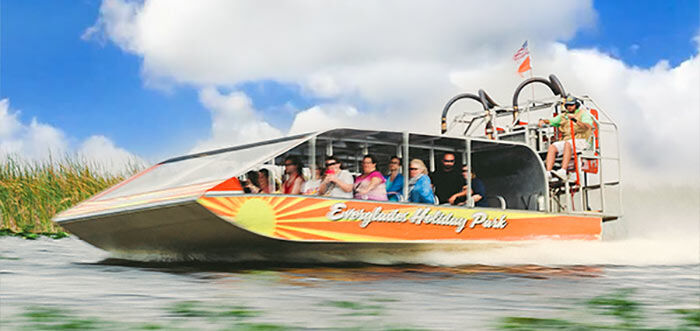 Airboat Safety General Information
Airboat rides are 60-minutes long.
Each airboat comfortably seats up to 25 people.
Our airboats are state-of-the-art, and operated by highly-trained and experienced airboat captains.
Our airboats are maintained and checked daily to ensure optimal riding conditions.
Everglades Holiday Park airboat tours operate in rain or shine, but will return to the docks if the conditions are unsafe (we recommend checking the weather conditions before heading to the park).
Each airboat contains a first aid kit.
Each airboat contains life jackets for each person.
Ear protection is available upon request.
Airboat Ride Rules and Policies
Passengers must remain seated at all times for maximum airboat safety.
Passengers must keep hands and feet inside the airboat at all times.
Absolutely no feeding the wildlife.
Absolutely no throwing any items overboard.
Do not put your hands into the water.
Do not grab any plants.
Do not try to catch any animals or fish.
Infants and young children are allowed onboard, but should be seated with an adult.
Questions About Our Airboat Safety Policy? Call Us!
For any questions regarding our Everglades boat tours, airboat safety, and riding rules and policies, please feel free to contact our team at 954-434-8111. Don't wait any longer! Book your airboat tickets today! We accommodate small and large groups, private parties, corporate events, and kid's birthday parties.
Learn More About Our Airboat Tours Here: