Kids
Welcome to the Ever-Exciting Kids' Corner of Our Everglades Park!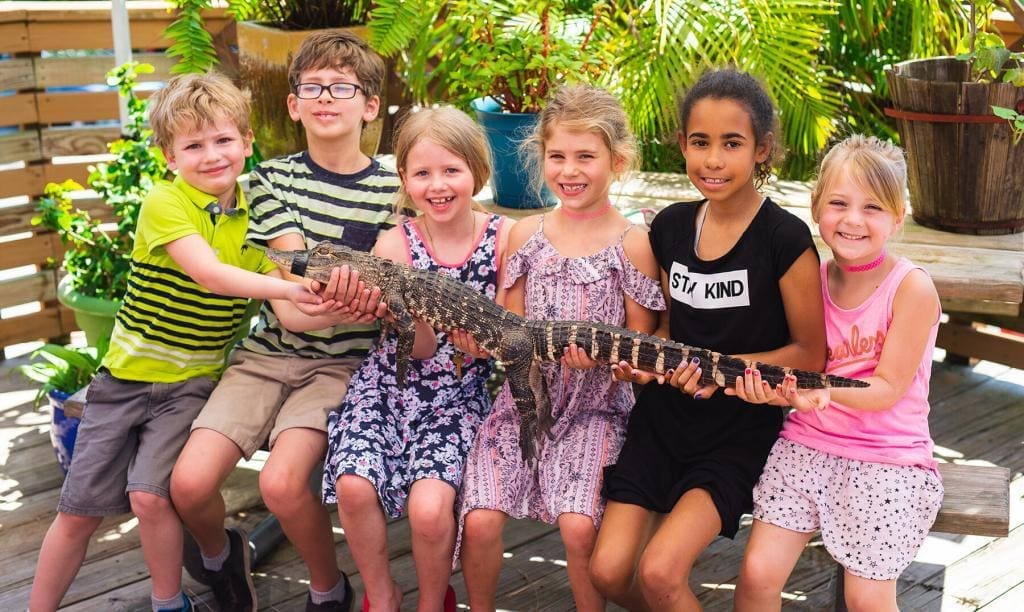 Venture into a world of unforgettable adventure where your young explorers are at the heart of it all! Here at Everglades Holiday Park, we foster a vibrant fusion of education and entertainment, carefully designed to introduce children to the awe-inspiring ecosystems and mesmerizing wildlife of Florida, all in a secure, welcoming environment. Learn about the things to do with kids in the Everglades, like our heart-racing airboat tours, captivating alligator shows, and all the hands-on, interactive activities. Each visit to our park evolves into a unique voyage of exploration and discovery for children of all ages. 
Gator Kids Club
The exclusive Gator Kids Club is a unique program that fosters a deep engagement with environmental learning and conservation in dynamic and interactive ways. Club members enjoy seasonal newsletters bursting with fun facts, puzzles, stories, exclusive park activities, and regular virtual interactions with resident alligators – like our beloved "Seven". This platform nurtures an early appreciation for nature and wildlife, cultivating a sense of responsibility toward preserving this rich heritage.
As part of the Gator Kids Club, children also get the chance to participate in annual events like 'Gator Day' and the 'Nature Conservation Festival'. These events feature a variety of activities like scavenger hunts, conservation workshops, and fun contests, providing a rich, hands-on learning experience for kids.
Birthday Parties
Give your child's birthday a wild twist with our tailor-made Kids' Birthday Party services. We offer a unique blend of adventure and fun, including private airboat tours, interactive alligator shows, and a dedicated party area complete with party favors, themed decorations, and a personalized birthday cake.
Our kids birthday party planners will take care of all the details, ensuring a stress-free experience for parents and a memorable birthday bash for the birthday child and their friends. We can customize our offerings to suit your child's interests, ensuring that each birthday party is as unique as your child.
Field Trips
Our specially crafted field trip experiences are a perfect fit for schools, summer camps, youth groups, church ministries, and other large groups. Our dedicated team blends education and entertainment to offer an immersive learning environment where children delve into an in-depth understanding of the Everglades' unique ecosystems. We offer flexible field trip plans that allow educators and group leaders to meet specific learning objectives, ensuring an unforgettable day of exploration for their students or group members.
Children will not just observe the Everglades' wildlife but will also learn about their life cycles, habitats, and adaptations. They'll get the chance to hear fascinating stories about the Everglades rich history and the indigenous communities that have called the Everglades home. They'll also participate in hands-on activities that bring environmental education to life, reinforcing classroom learning in a tangible and meaningful way.
Scouts
At Everglades Holiday Park, we warmly welcome scout troops and provide a nurturing environment for them to explore, learn, and achieve. With our diverse range of activities and educational presentations, scouts can engage with various facets of nature and Everglades wildlife to earn the prerequisites for their merit badges. We work closely with troop leaders to plan a rewarding visit that aligns with the scouts' curriculum, fostering knowledge and appreciation for the vibrant Everglades ecosystem.
We offer special programs focused on different aspects of the Everglades, such as wetland preservation, local flora and fauna, and navigation skills. Scouts also have the opportunity to contribute to the park's conservation efforts, participate in clean-up drives, learn about sustainable practices, and their ability to adopt an alligator. These experiences not only help them earn their badges but also instill a sense of responsibility and ownership toward preserving our natural heritage.
Airboat Adventure Tours
Dive into the exhilarating thrill of our state-of-the-art airboats, expertly steered by our seasoned airboat captains. As you course across the majestic landscapes of the Everglades, witness nature unfurling its breathtaking spectacle at every turn. Observe your children's faces beam with joy as they spot alligators and turtles basking under the sun, eagles pirouetting in the sky, and perhaps even a noble Florida panther roaming nearby.
Our tailor-made Kids' Airboat Adventure Tours are engineered to provide a secure, enlightening, and highly enjoyable experience. On these tours, kids get an up-close view of the Everglades' diverse ecosystems. They can learn about how this intricate network of wetlands and forests fosters an incredible variety of life. Our expert guides narrate fun and educational stories about the Everglades, ensuring children soak up knowledge while enjoying the beautiful scenery.
Alligator Shows and Encounters
Through our Alligator Shows and Encounters, children are offered a once-in-a-lifetime opportunity to interact with alligators safely. We aim to educate and pique curiosity, showcasing the captivating attributes and behaviors of these awe-inspiring reptiles. Children get the thrilling opportunity to learn about alligators, their unique lifestyle, their intriguing eating habits, and their remarkable survival skills. We also offer exciting photo sessions where kids can pose with these magnificent creatures under the safe guidance of our professional handlers during their animal encounters.
We foster an understanding of the alligators' role in maintaining the ecological balance of the Everglades, teaching kids the importance of these apex predators. These interactive sessions are more than just a display of wildlife; they are a window into the circle of life that unfolds in the Everglades every day.
The Everglades Kids Corner at our Park
Everglades Holiday Park is not just a destination — it's a journey, an adventure into the heart of Florida's vivacious wildlife and unique ecosystems. We've put in place various activities and programs to engage young minds and ensure they receive the best possible educational experience while having loads of fun.
From the moment you set foot in our park, you'll notice our unwavering commitment to safety, education, and enjoyment. We prioritize making each visit an exciting adventure, packed with learning opportunities that spark curiosity, promote understanding, and foster an appreciation for the natural world. We eagerly anticipate sharing this exciting adventure with you and your children, helping them make lifelong memories and ignite a passion for nature and conservation that will continue to grow long after they leave the park.
Join us in celebrating the Everglades, its captivating wildlife, and its fascinating ecology. Let's help our children become the future custodians of our planet by inspiring them today. Welcome to the Everglades Holiday Park Kids' Corner—where every day unfolds into an extraordinary adventure!